Computing
The five largest computer manufacturers in the world are Lenovo (owner of the ThinkPad range of laptops) with 19.9% market share, HP with 19.7%, Dell with 13.5%, Acer Group with 7.7%, and Apple with 7.1%. ASUS follows at sixth place with 6.5%. The top 5 together, accounted for almost 60% of the 316 million personal computers sold in 2013. 
Of the 195 million tablet computers sold in 2013, Apple, producer of the iPad and iPad mini, claimed a huge 36% of the market. Samsung (producer of the Galaxy Tab and Galaxy Note, 19.1%), ASUS (5.6%), Amazon (maker of the Kindle, 4.8%) and Lenovo (3.3%) rounded out the top five, altogether accounting for 69% of global tablet sales.
By revenue, the largest electronic component manufacturers in 2012 were Avnet, Arrow Electronics, Future Electronics, TTI Electronics, Allied Electronics, Newark element14, Digi-Key Corporation, Mouser Electronics, DAC/Heilind and NF Smith & Associates, LP, together amassing over $70 billion in revenue that year.
The top five disk storage vendors in 2013 were EMC (34.3%), IBM (12.7%), NetApp2 (11.8%), HP 9.2%) and Hitachi/HDS3 (8.9%), together accounting for 76.9% of the total market.
Home Entertainment
Video game console sales have declined in recent years, falling from 89 million units sold in 2008 to 57 million in 2012. In 2013, Sony sold 15.14 million units of its PlayStation 3, PSP and Vita consoles, Microsoft sold 6.11 million units of its Xbox 360 console and Nintendo sold 20.71 million units of its Wii, Wii U, DS and 3DS devices. Of the most recent generation of consoles released, as of October 2014 Sony claims 47.45% of the market while Nintendo and Microsoft account for 37.40% and 15.15% of sales respectively.
As of July 2013, Samsung is the largest SmartTV distributor with 26% of the market, followed by LG on 16% and Sony on 11%. Samsung also led the 3DTV market as of 2012, occupying 27% of the market – but slipping from a lead of 31% in 2011 and 37% in 2010. LG and Sony are again second and third, with 18% and 7% of the market respectively. LG leads the LCD market however, shipping 26.1% of displays in the third quarter of 2013, while Samsung shipped 19.8%, Innolux Corp shipped 17.5% and AU Optronics shipped 16.9%.
Mobile Devices
As of July 2014, the five largest mobile phone manufacturers in the world were Samsung (31.0%), Apple (15.6%), Huawei (4.8%), LG Electronics (4.8%) and Lenovo (4.5%).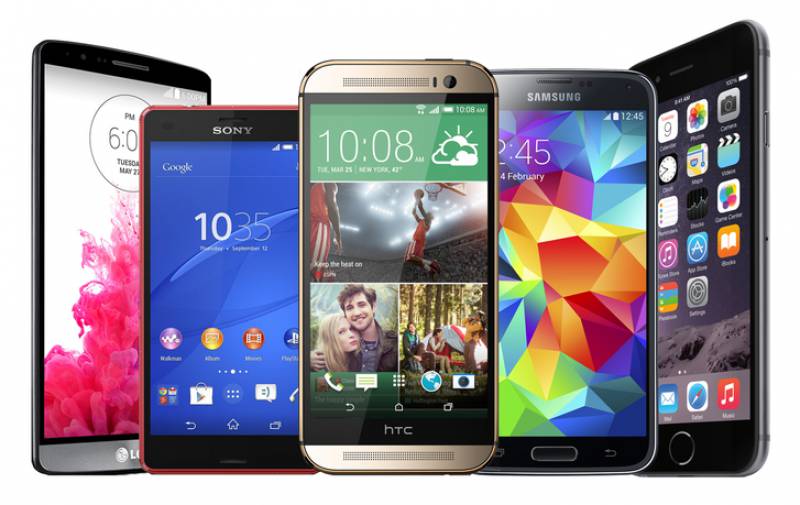 Sales of the iPhone 6 and iPhone 6 Plus have driven Apple to reach a market capitalisation of over $660 billion – the highest ever recorded in the world. The Android operating system is the clear market leader, with 85% of new smartphones carrying it. Garmin, TomTom and Magellan are the largest GPS manufacturers, but are suffering dwindling sales because of the growth of the smartphone GPS market.
Sony is the biggest manufacturer of mirrorless cameras, a relatively new alternative to DSLRs, accounting for 51% of sales in the first half of 2014. Sony is also now the largest producer of compact cameras, selling 40% of the total in the first half of 2014.
Online
Google, owner of the search engine as well as Gmail and social networks Google+ and Youtube, is now the world's biggest media company, accounting for 65% of all Internet searches. In 2012, it earned $37.9 billion in media revenue, 82% of all paid search advertising and 15% of display advertising worldwide. Yahoo!, which now owns Flickr and Tumblr as well as the search engine, and Facebook, owner of Instagram and WhatsApp, are the 15th and 27th largest media companies respectively, pulling in $5 billion and $3.2 billion.
In the search engine market, Google maintains dominance with 65.2% of all searches conducted worldwide, Chinese Baidu accounted for 8.2%, Yahoo! has fallen to 4.9%, Russia-based Yandex claims 2.8% of the total while Microsoft-owned Bing has grown to 2.5%. The top ten social media sites are, in order of number of users: Facebook, Twitter, LinkedIn, Pinterest, Google+, Tumblr, Instagram, VK, Flickr and Vine. Six of these sites are owned by Facebook (Facebook, Instagram), Twitter (Twitter, Vine) and Yahoo! (Tumblr, Flickr). This gives Facebook approximately 1 billion unique users monthly, Twitter 350 million and Yahoo! 170 million.
The Documentary 'Google: Behind the Screen' outlines concerns that Google, whose motto is 'Don't be evil', could be  slowly turning into Big Brother.
Manufacture
The other group of companies, often unrecognised by the average consumer, are those commonly referred to in the industry as EMS (Electronic Manufacturing Services) companies – those that contract to the companies that sells products under its own label. EMS companies may design, test, manufacture, distribute and provide return/repair services for electronic component and assembles. At each stage of the supply chain there are various EMS companies.
The largest of these being Taiwan-based Hon Hai Precision Industries (Foxconn) with 2013 revenue of $132.07 billion USD, and manufacturing about 40% of the worlds electronics. From Terry Gou's empire  flows more than 230 holding companies, affiliates, subsidiaries and divisions.
The next largest is Flextronics (about $23B), and then Celestica, Jabil, Benchmark Electronics, and Sanmina-SCI (with $800m-1Billion).
See more at Top 50 EMS Companies, 2013, for circuits assembly.
See the recent BBC (Panorama) Documentary Apple's Broken Promises (released in December 2014) – on Apple's supply chain, specifically the Pegatron factories on the outskirts of Shanghai which make parts for iPhones and iPads. See article Apple Shifts Supply Chain Away From Foxconn to Pegatron, May 2013).

For an interactive map based on Apple's 2013 Supplier list, see 'Who Supplies Apple?'  See the 2015 Supplier list here.